Legion Baseball: Post 22 rocks Aberdeen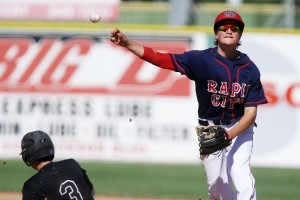 Rapid City Post 22 has won five games in a row after sweeping a doubleheader from Aberdeen on Sunday at Floyd Fitzgerald Stadium.
The Hardhats scored 23 runs in the two games -- an 8-4 win in the opener and a 15-1 demolishing that lasted five innings in the nightcap -- but head coach Mitch Messer hopes his team doesn't get too excited about they way it played.
"I thought we came out flat in the first game," Messer said. "We came out and played with a little more intensity in the second game and took care of business."
Eight of Post 22's nine starters knocked in runs in the second game, led by Greg Schaefer's 4-for-4 effort with two RBI and three runs scored. Hunter Jackson, who hit a solo home run in the opening win, and Jonah Hanson also knocked in two runs in the second game. The only player not to knock in a run in the second game, shortstop Tanner Simons, had two RBI in the opener. Despite the offensive production, Messer said he sees areas that his lineup can improve.
"We need to be more aggressive earlier in counts," he said. "We're just not clicking right now at the plate. That will come with more at-bats, but right now we're watching good pitches early in the count and swinging at bad ones late. To me, that just says we need more at-bats. We're getting a little bit better every day."
The Hardhats (11-4) got off to a good start in the first game thanks to Aberdeen starting pitcher Carter Paulson's wildness. Paulson walked two Post 22 hitters and hit three more, leading to Jake Sullivan, Simons, Jose Melendez and Connor Merriam picking up RBI in the inning.
Aberdeen came back in the top of the third inning to tie the game at 4-all thanks to three hit batters by Post 22 starter John Zastrow, but the Hardhats came back with two runs in the bottom of the inning on a hit by Carter Wevik that drove in Sam Parkinson and Melendez.
Post 22 and Aberdeen were knotted up at 1-all after one inning of play in the second game before the home team erupted for six runs in the second inning and seven more in the third to basically end the game.
Five players scored two runs or more for Post 22 in the second game, led by Schaefer and Jacob James with three apiece. Jackson, Wevik and Hanson each added two runs scored.
Zastrow got the win for Post 22 in the opener, giving up four runs and six hits over six innings. He struck out five and walked one. Zach Johnson pitched one inning of relief for Rapid City, walking one and not allowing a hit.
Melendez pitched five innings to get the win in the late game. Melendez allowed six hits and one run in the game. He struck out three and walked one in the complete-game effort.
Rapid City allowed five runs and committed four errors in the two wins and their head coach thought being cooped up while it rained the past few days may have had something to do with that.
"Defense and pitching were a little flat today but I think that had a lot to do with being inside for the last four days and not having the reps that we needed," Messer said.
Post 22 will head to Pierre for a doubleheader today before traveling to Cheyenne, Wyo., and Denver over the next two weeks for tournaments. Post 22 will play Bishop Gorman High School (Las Vegas) -- one of the country's top high school teams -- in the tournament in Denver on June 8.
"It will be good for us to see baseball at that level," Messer said. "We're looking forward to it and we'll learn something from it."